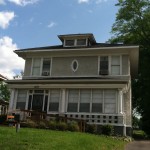 There is a beautiful, old house in the heart of Midtown that you may have passed a hundred times and never known that within its walls there are families re-establishing their independence. The Dorothy Day House of Hospitality (DDHH) provides temporary housing and support to families who are homeless. DDHH believes that keeping families together while homeless gives them a better chance of rebuilding their lives.
On the last day of my Volunteer Odyssey, Janie Kathryn and I visited the house. Having participated in the Family Fun Bike Ride that raises money for their mission, we had a little bit of knowledge of the organization's efforts to help homeless families. We visited the house at an unusual time because the families receiving support had recently moved into their own homes. Wonderful news! Though the house was empty, Sunday evening prayer and dessert continued as usual. We met other Volunteer Odyssey friends and Sister Maureen, who gave us a tour of the house and shared many stories.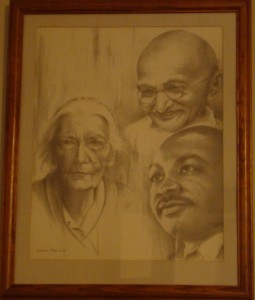 Sister Maureen is the sole employee of the organization that is funded entirely on monetary and in-kind donations from private donors and charitable organizations. DDHH does not receive any government funding, which is in harmony with the vision of its name sake, Dorothy Day. Day (1897-1980) was an a proponent of Distributism, who believed that it was not the government's or even the church's place to help the people, but that the people themselves should help each other. It was so interesting to hear Sister Maureen tell stories of Dorothy Day and how she founded the Catholic Worker Movement. Prior to this encounter, I had read a little about Day on my own, even adding her to my list of notable people that I hope to one day introduce to my students.
There are three categories from which families supported by DDHH typically come. One cause of homelessness is underemployment, as in jobs that just don't pay the bills. Another cause is catastrophe, such as a major medical expense or a house fire. Possibly the most common reason for homelessness is being born into poverty. With 6,000 babies being born into poverty each year in Memphis, the DDHH will not be empty for long.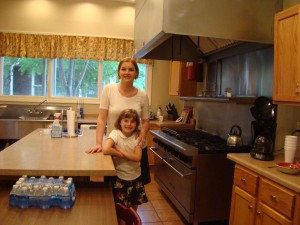 DDHH does more than provide shelter for its families. Families are also assisted with educational resources, employment counseling, financial advice, parenting skills, as well as access to permanent housing. The volunteers at DDHH work hard to ensure that no family has to return to homelessness by providing these supports even after a family leaves. There are many ways to help DDHH and its future residents. Janie Kathryn and I plan to add our names to the list of providers of Monday night dinner and not just to use that kitchen!
According to Sister Maureen, DDHH has four basic needs: money, publicity, volunteers, and prayers. Monetary, in-kind donations, time, or talents… no matter what you have to offer the Dorothy Day House of Hospitality can use your help to help keep families together through homelessness.
————————————————————————————————————————
If you like our work, please consider making a contribution to keep it going!
Want the insider story and more pictures? Connect with us on Facebook and Twitter!
————————————————————————————————————————