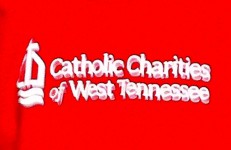 Hunger is a feeling everyone can identify with. Whether it's because you're trying to lose some weight, or perhaps just too busy and had to skip a meal, at some point in your life you've experienced that empty, painful feeling. However, most of us overcome this feeling relatively quickly. We just walk to our refrigerator or pantry and whip something up. Or perhaps we drive to the nearest McDonalds or Burger King for a quick bite to eat. (To make it clear, I do not condone that kind of behavior, that's just my prerogative.) (And spare me whatever Bobby Brown reference you're thinking of right now.) It's not a problem for most of us to feed ourselves. However, I learned that 1 in 6 people in our community do not know where they are going to get their next meal. This is a fact that I have a hard time wrapping my head around.
Today I went to the Catholic Charities of West Tennessee to help in their food pantry. The organization is located near downtown Memphis and occupies the building formerly known as Sacred Heart, a school for girls that shut down sometime in the 1960s. When I arrive, my first instinct is to explore the old building by myself and perhaps stumble upon some secret passageways, or some ghosts. But, I resist the urge and go meet with Ms. Peggy, the volunteer coordinator. Ms. Peggy briefly tells me about the mission of the organization and introduces me to a couple of "more experienced" volunteers, Andrea and Genevieve. The mission of the Catholic Charities of West Tennessee is to reach out to the community and provide food and assistance to those who are in need, and do so at no cost to them.
My job today is to organize and re-stock the shelves of the pantry, and prepare bags of groceries for individuals and families who need it. My first task is simple enough: bag and refrigerate an entire mountain of sweet potatoes that were donated by a local vendor. (Did you know that sweet potatoes are one of the most nutritionally perfect foods in existence? AND they happen to be the ONLY food that I cannot stand the taste of.)
This was a fun task for me because I didn't have to concentrate too much on what I was doing, which gave me the chance to ask questions and get to know Andrea and Genevieve. We all have a lot in common and get along great. After I was done putting away the sweet potatoes, Andrea and Genevieve showed me how to put together groceries for different sized families. A lot of planning goes in to each bag of food to ensure that each family has what they need. They also taught me about "walking bags", which are bags with food that doesn't need to be cooked, designed especially for the homeless.
The charity also offers a clothes pantry, a mobile food pantry (for those in need who don't have transportation to the facility), and even a job placement department where people can go for help finding employment. The Catholic Charities of West Tennessee seems to have thought of everything. Working with Andrea and Genevieve, and seeing the enthusiasm on their faces made me appreciate the purpose of their mission. I'm glad I got to spend some time here and I'm excited to see how the Catholic Charities of West TN will affect the community in the future.
————————————————————————————
Are you a fan of Volunteer Odyssey? Visit us on Facebook and Twitter!